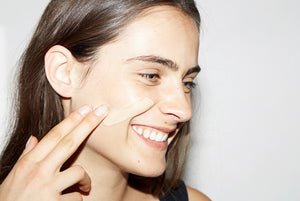 Tint Protection SPF 30+
Sale price Price $29.99 Regular price
DESCRIPTION
• This Chemical Free Sunscreen is a lightweight product formulated with an advanced silicone elastomer. In addition, this product provides a chemical free sunscreen without the white out that occurs with traditional non Nano ingredients. This sunscreen has a proprietary antioxidant package that not only protects one from sun damage but also helps assist in repairing it. A unique growth factor peptide complex allows this sunscreen to bioactive as well as offering UVA/UVB protection and excellent moisturizing properties.
BENEFITS
• Quickly absorbed with no greasy residue.
• Contains antioxidant technology that helps prevent premature aging and    hyperpigmentation due to sun damage.
• Specifically designed to hydrate your face while protecting it from sun damage.
APPLICATION
Use as the last step in your morning regimen. If your skin is exposed to the sun throughout the day, re-apply every two hours. This lightweight formula can be used
alone or under makeup.
ACTIVE INGREDIENTS:
Octisalate 3.00%, Octyinoxate 5.50%, Oxybenzone 6.00%, Zinc oxide 6.40% PRODUCT INGREDIENTS: Water, Tris (PPG-3 benzyl ether) citrate, Octyl methoxycinnamate, Ethylhexyl salicylate, E-wax, Citrullus lanatus (watermelon) extract, Hydrolyzed wheat protein/PVP crosspolymer, Ceramide 3/milk lipids, Glyceryl stearate, Stearyl palmitate, Theobroma cacao (Cocoa) seed butter, Triethoxycapryl silane, Butyrospermum Parkii (shea butter), Cammelia sinensis (green tea) leaf extract, Niacinamide, Hyaluronic acid, Olea europaea (olive) leaf extract, Aloe barbadensis, Magnesium ascorbyl phosphate, Benzylalcohol/ dehydroacetic acid, Xanthum gum, Glycerin, Sodium acrylate/ acryloyldimethyl taurate copolymer, Isohexadecane, Polysorbate 80, Disodium EDTA Triethanolamine.