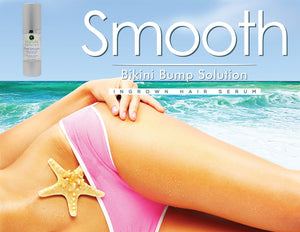 Smooth Bikini Bump Serum
Sale price Price $19.99 Regular price
Are you Bikini ready? Free yourself from Bikini Bumps (ingrown hairs), Razor Burn and Irritation from shaving and waxing
 with Smooth Bikini Bump Serum.
Whether you
shave, wax or laser
, you could have
ingrown hairs
that can become irritated, creating embarrassing
bikini bumps, inflammation and redness
. Why go through bikini season worrying about your bikini line?
Smooth Bikini Bump Serum
is formulated to
 calm, soothe
and reduce the appearance of razor bumps (ingrown hairs). Our special offer of 3 will last an entire bikini season if used properly.
Say bye bye to bikini bumps!
DESCRIPTION
Our Ingrown Hair Serum eliminates, treats and prevents ingrown hairs and razor burns. This calming and soothing exfoliating formula is infused with Anti-Oxidants, Vitamins, Lavender and Tea Tree Oils to leave the skin feeling smooth and refreshed.
APPLICATION
Prior to application clean and dry skin. Apply a small amount to affected areas, and areas prone to irritation and redness caused by waxing and/or shaving. Use twice daily.