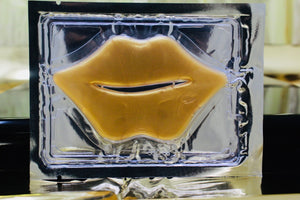 Pure Gold 24k Lip Mask
Sale price Price $9.99 Regular price
Pure Gold 24k Lip Mask
Creates full-lip appearance while reducing fine lines, wrinkles and creases. Hydrates, softens and firms skin above & below lip area. Treats dry & chapped lips. Moisturizes above & below lips reducing signs of aging. Rejuvenates the lips.
The Nano-gold particles in the Gold Collagen Lip Mask penetrate the dermis rejuvenating collagen deep into the skin which activates cell renewal, eliminates toxins, moisturizes above & below lips reducing signs of aging, adds volume to your lips giving a fuller plumper look.
At the same time the nano-gold particles enhance firmness & elasticity, and reduces the fine lines, wrinkles and smoker's lines (vertical lines) around the lips.
Directions:
Cleanse and dry lips thoroughly.

Open and apply the mask to your lips. Gently press the mask onto your

lips to create a snug fit.

Apply any excess product from the packet over your mask for a more

thorough cleanse.

Keep the mask on for 20 to 30 minutes.

Remove the mask gently, and rub in any excess moisture into the lips.
PRODUCT INGREDIENTS: Nano Gold, Butylene glycol , L-Ascorbic acid propolis, Glycerin
Dimethiconol, Hyaluronic acid, Algin, Hydrolized Collagen, Aqua