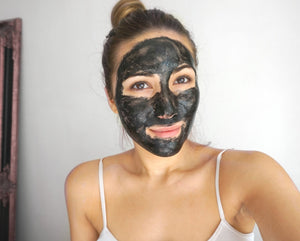 Pure Detox Charcoal Facial Sheet Mask
Sale price Price $9.99 Regular price
DESCRIPTION
• The Pure Detox Charcoal Facial Sheet Mask will help reduce excess oils and impurities while infusing the skin with essential moisture and bio-actives. Volcanic properties assists in revitalizing and detoxifying the skin. Advanced activated charcoal works like a magnet to draw out impurities and toxins from dehydrated congested pores. This medical grade Charcoal Facial Sheet Mask helps minimize the appearance of enlarged pores, fine lines, and wrinkles, while leaving skin looking pure, fresh and hydrated.
BENEFITS:
Reduces the appearance of enlarged pores.
Diminishes the look of fine lines and wrinkles.
Dull, dry skin is replaced with the appearance of new luminosity
APPLICATION INSTRUCTIONS:
Cleanse and dry skin thoroughly. Apply mask, smoothing from the center outward, making sure of complete contact. Let remain for 20 minutes, then remove. Do not rinse. Massage remaining serum into skin.
INSTRUCTIONS FOR USE:
(back of packaging)