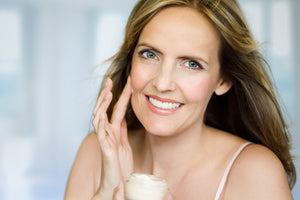 Oil Free Moisturizer
Sale price Price $24.99 Regular price
DESCRIPTION
An extreme moisturizing cream to help protect from harmful rays while making skin appear younger and smoother.
BENEFITS
• Vitamin B5 (Panthenol) in living cells, panthenol is converted to pantothenic acid, which then becomes an important part of the compound "Coenzyme A", which is important in cellular metabolism.
• Hyaluronic Acid (Sodium Hyaluronate) the presence of HA in the skin decreases as we age, leaving the skin dry and wrinkled. HA is the most water-loving molecule known to man. HA naturally hydrates the skin resulting in a more youthful appearance.
• Vitamin E (Tocopheryl Acetate) is an antioxidant that protects the cells from free radicals.
• Lactic Acid reduces fine lines, wrinkles, age spots and hyper- pigmentation while improving the skin's texture and promoting collagen production.
APPLICATION
Wear alone or under makeup. Glides on easily and absorbs quickly into the skin.