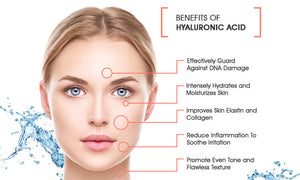 HYALURONIC ACID
Sale price Price $59.99 Regular price
Hyaluronic Acid in it's purest form is a super humectant that draws 1000x it's own weight to your skin where it needs hydration the most. HA is used in dermal fillers to attract water molecules to the injected area. This topical form gives a temporary plumping and filling to the areas it is applied for fine lines and wrinkles.
DESCRIPTION
A very efficacious formula with hyaluronic acid, copper peptides, plant botanicals and soluble collagen. Glides on beautifully for a hydrated, smooth and soft appearance to the skin.
Plumps and nourishes the skin for a smooth and soft texture. Astringent properties of witch hazel combined with the calming effect of chamomile extract. Anti-aging ingredients to achieve a more youthful appearing skin.
APPLICATION
After cleansing apply twice a day, morning and night.