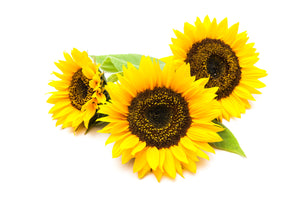 Daily Sunflower Exfoliator
Sale price Price $19.99 Regular price
Sunflower micro-exfoliating scrub is mild, effective, and gentle enough for daily use. It removes impurities, debris and dead skin cells for a smooth and radiant appearance to the skin.
Anti-microbial to remove microorganisms from the surface of the skin.

Improves penetration of other products by removing dead skin cells.

Helps increase cell turnover for a smooth and soft appearance to the skin.

Reduces the appearance of discoloration, enlarged pore, fine lines and wrinkles.

APPLICATION

Using the Fruit Acid Enzyme Cleanser, clean and rinse face well, leaving the skin damp. Massage a quarter-sized amount of gel onto skin using a circular motion. Rinse well with warm water, pat dry.
PRODUCT INGREDIENTS:
Water, Sunflower Exfoliant, Lactic Acid, E-wax, Glycerin, Shea Butter, Mango Butter, Jojoba Oil, Grapeseed Oil, Sodium Hydroxide, Cucumber Extract, Aloe Barbadensis, Benzylalcohol- DA, Xanthan Gum, Stearic Acid, EDTA, Fragrance Oil,